On one of De Tukker's first voyages, on the return journey from her maiden voyage from Amsterdam to Porto, passing Cornwall via London back to Amsterdam, Carmen boarded the ship. This is her story:
There I was, in the middle of the Pentland Hills, taking a break from the first climb of the morning. I had only been hiking for a week, and although I found it beautiful, I was increasingly thinking about the return journey and especially "how?" Should I just take the train again? Maybe the Flixbus? I really didn't want to fly… or should I? I had to set aside all those questions for now; after all, I didn't have internet to look it up, so I might as well enjoy the beauty around me a little longer. And as I sat there, it occurred to me: what if I could sail back?
Last summer, I sailed a bit with the Tres Hombres (a sailing cargo ship), and besides a terrible longing for sailing and the sea, that adventure gave me something else… Jorne's phone number!
"Hello Jorne, it's Carmen. Maybe a bit of a strange question, but do you happen to know a ship going from Scotland/England to the Netherlands?" And he had an answer… In three days, "De Tukker" would depart from London towards Scheveningen. Three days!? I had to hurry, but the idea of being back at sea soon gave me wings. Within two days, I was in Edinburgh and then on my way to London.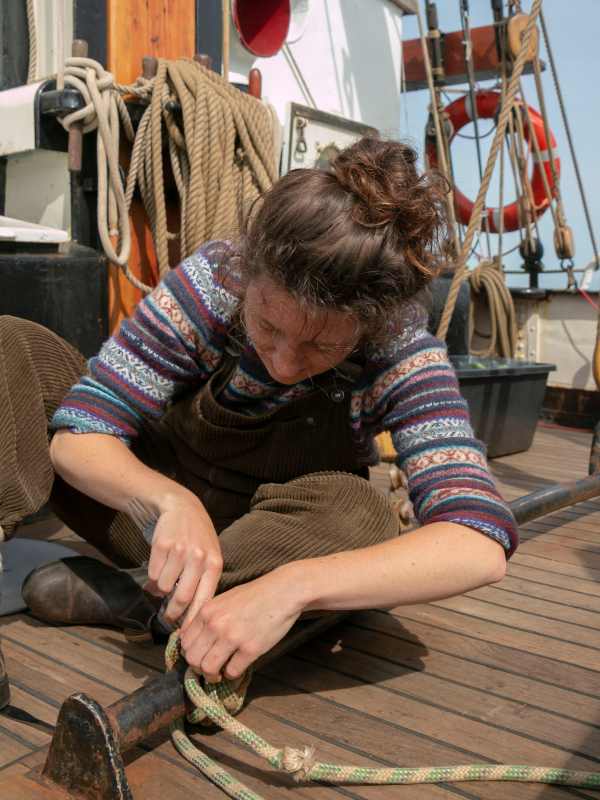 Sailing back with De Tukker turned out to be the best choice I could have made. Of course, it takes some getting used to at first; it's truly a different life you step into, but that's also the beauty of traveling by sailboat… I loved it. You're away from the land and everything that comes with it; you have no choice but to let go. I can't explain it; you can only experience what it's like to be on that small, quiet ship in the vast world of wind and water. It did me so much good…
Oh, don't worry, you're not constantly looking at the sea and jellyfish throughout the entire journey! Although that's also quite enjoyable from time to time. Along the way, you learn all sorts of things about sailing; you simply participate in everything that needs to be done. From tying ropes to hoisting sails, from washing dishes to standing at the helm (yes, really!). It didn't matter that I had little sailing experience; in fact, it was fun because I learned so much!
I enjoyed beautiful stories of sea adventures while gazing into the dark world during night watches. I loved cutting vegetables in the galley with the cook and listening to his culinary discoveries. And the first mate determining the course by feeling the wind on his cheeks… It's truly beautiful! These people each inspired me, and I'm so grateful to have met them. It was a rich and valuable experience, a beautiful adventure, and I hope many more will follow. Ahoy!