11 – 12- 13 November 2022
Captain Jorne Langelaan will give several presentations about sail cargo, regulations, "de Tukker" and EcoClipper500 during the classic ships fair in Den Helder, Netherlands.
Friday 11th of November at 15:00
Saturday 12 and Sunday 13th of November 12:00
*presenations will be in Dutch*
 **Due the weather we had to cancel the open ship event at "de Tukker".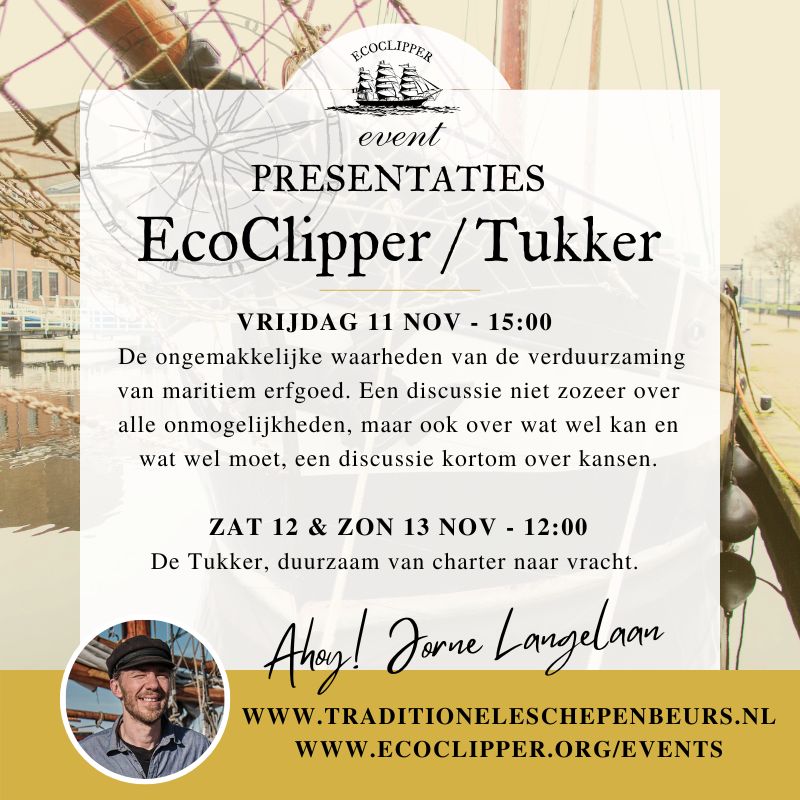 DATE: 11, 12, 13 November 2022
LOCATION: Klassieke schepenbeurs (Classic ships fair) , Willemsoord, Den Helder,Netherlands.
Presentation at GREEN SHIPPING SUMMIT
International trade still relies heavily on oceangoing vessels, and with major cargo-moving companies seeking ways to meet their greenhouse gas reduction goals, shipping is a prime target.
The current push to cut back on carbon-emitting fuels presents an exciting combination of cutting-edge technologies and designs using the oldest power source: wind.
Indeed, wind power has the potential to be the solution to sustainable cargo shipping, proudly advocates Jorne Langelaan, CEO at EcoClipper. A seasoned sailor and a visionary entrepreneur himself, Langelaan will join the 7th Green Shipping Summit (February 15-16, 2023 | Rotterdam) as a speaker, sharing his standpoints on a multitude of crucial issues:
Wind Shipping as a holistic solution to zero emissions
Wind sale technology to maximise the fuel saving
Showcasing innovative green solutions in the low-carbon economy
EU forecast – up to 10.700 wind propulsion installations by 2030
Unlock the full potential of the wind
Wind Propulsion – Prosperious development of Wind Shipping
The Decade of Wind Propulsion 2021-2030
The economic influence of the wind
Operational Changes Boost Wind
Renewable energy source – No new infrastructure needed
The 7th Green Shipping Summit is a crucial opportunity to connect with avant-garde players like Jorne Langelaan, who are shaping the dynamics of the ever-evolving shipping industry at unprecedented levels.

.DATE:  15 – 16 February 2023
LOCATION: Green shipping summit, Rotterdam, Netherlands