There are live events coming up in November 2021. Stay tuned we'll publish them soon..
All webinars have been recorded and will be shared with EcoClipper newsletter subscribers. Sign up HERE
A Series of 5 FREE webinars
The five-part Sail Cargo Webinar series will look at the business and economics of sail cargo. Guests are experienced professionals from different aspects of the industry and include sail cargo clients, brokers, designers and lobbyists.
All webinars will be recorded and shared with EcoClipper newsletter subscribers. If you can't make the live event, sign up to the newsletter HERE
Any unanswered questions will be collected and responded to separately after the webinar.
THE PIONEERS OF SAIL CARGO.
Overview of a selected group of operational sail cargo companies.
In this first webinar, to get a better idea of the promising industry of sail cargo, you are introduced by EcoClipper's CEO Jorne Langelaan, to a selected group of companies. The guest speaker of this first episode will be Danielle Doggett, founder and CEO of Sailcargo Inc. a leading project in the sail cargo industry. Sailcargo Inc is building, on the beach in Costa Rica, the largest wooden sail cargo vessel of this century.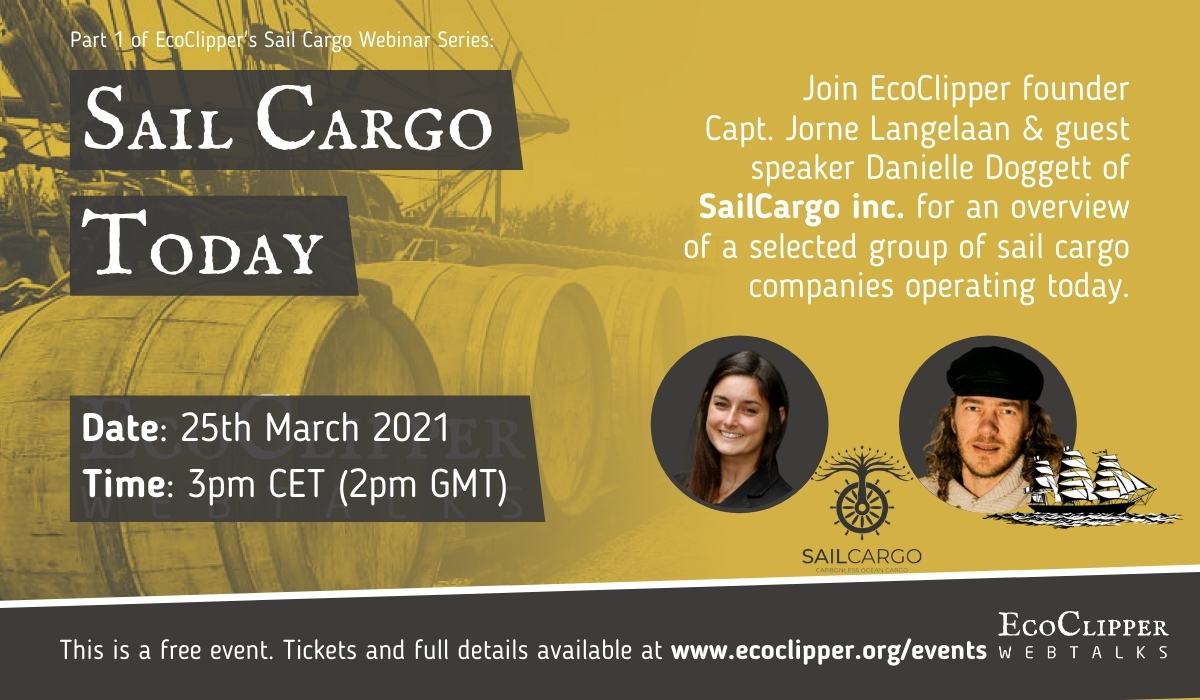 DATE: 25th March 2021
TIME: 3 PM CET (2PM GMT)
FEE: FREE!
Goods from foreign lands.
The market of sail cargo.
This second webinar takes you to the heart of what makes the sail cargo industry: the market and the cargo! Jorne Langelaan introduces the different markets and talks with a shipper: Sebastian Brimmers, CEO of Hennes Finest. Sebastian is determined to start shipping the main product of his company, pepper, from Cambodia to Germany by the way of wind!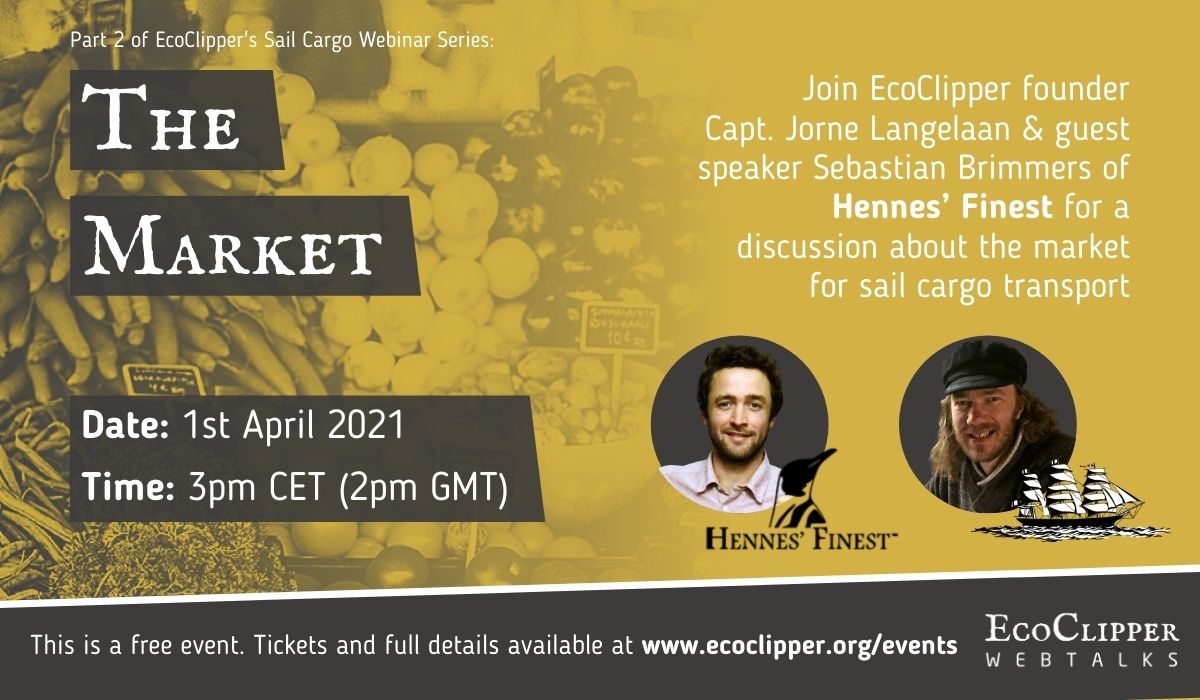 DATE: 1st April 2021
TIME: 3 PM CET (2PM GMT)
FEE: FREE!
Over 3000 years of innovation.
Different sail cargo technologies.
Join EcoClipper founder Capt. Jorne Langelaan & Derek Ellard for a discussion about the technical backgrounds of different sail cargo technologies. Which ships, for what routes? A score of options will be presented.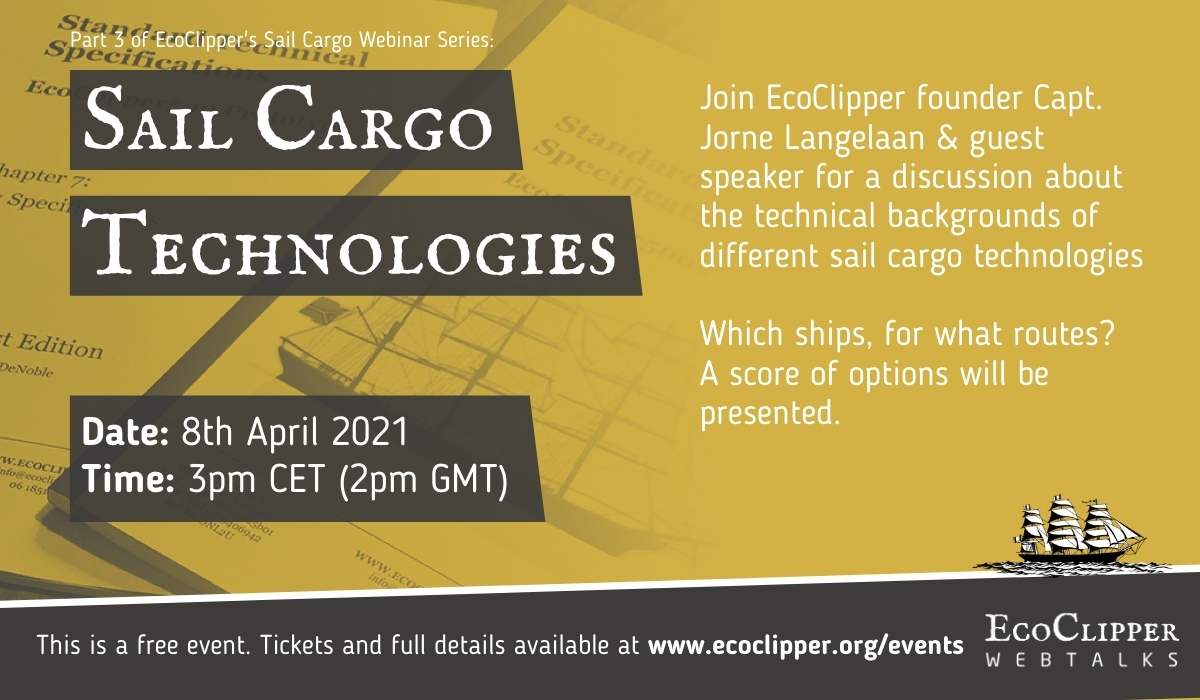 DATE: 8th April 2021
TIME: 3 PM CET (2PM GMT)
FEE: FREE!
Looking towards a bright future for sail cargo.
This fourth webinar, the founder and secretary of the International Windship Association (IWSA) Gavin Allwright, will take you along in his work of leading shipping companies the way to wind propulsion. During the discussion, you are invited by Jorne Langelaan, founder of EcoClipper, to have a look into the future of the sail cargo industry.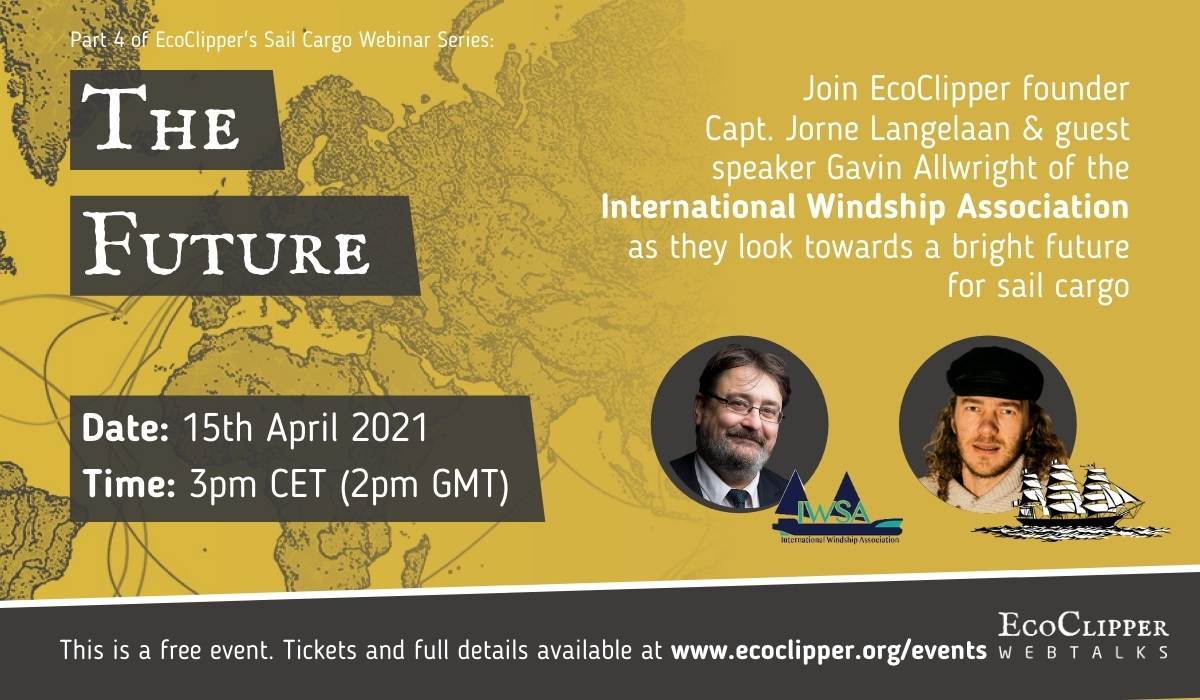 DATE: 15th April 2021
TIME: 3 PM CET (2PM GMT)
FEE: FREE!
Business models for sail cargo.
In the fifth and final Webinar of this first series, you are introduced to a score of different business models to run a sail cargo company. Jorne will be joined by Alexandra Geldenhuys, an innovative entrepreneur who has been operating in the centre of the sail cargo industry for the last decade. Here she will talk about the Voyage CO-OP – a positively disruptive business model she developed to create a network of sail cargo partners.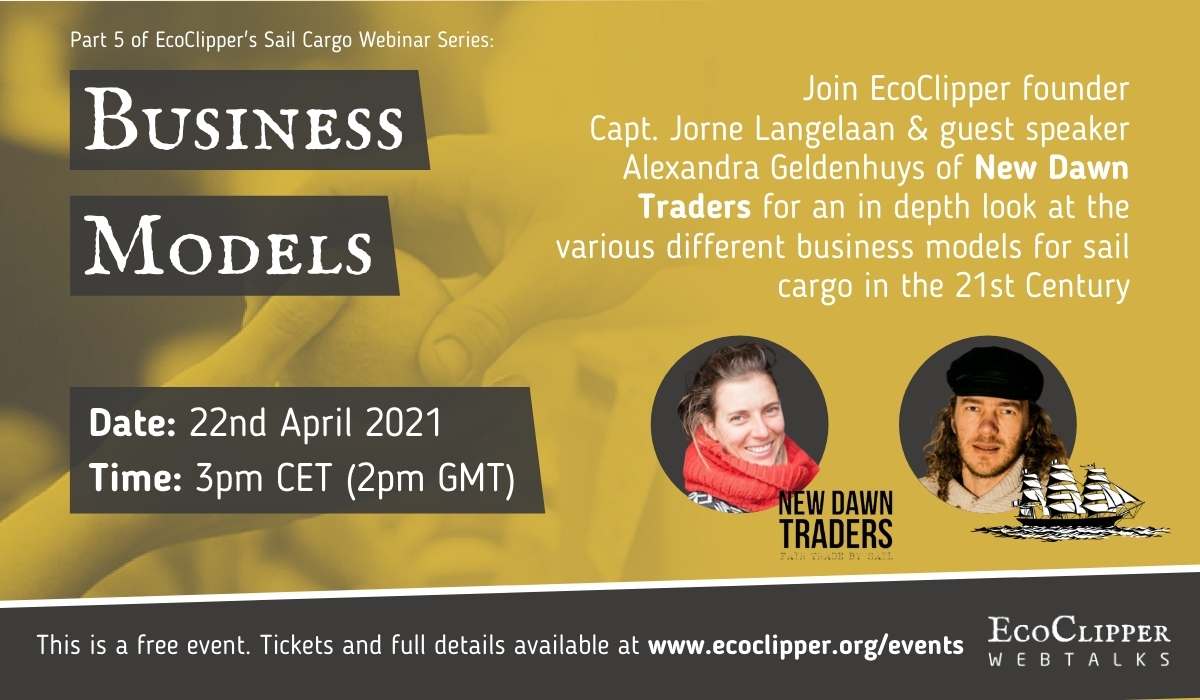 DATE: 22th April 2021
TIME: 3 PM CET (2PM GMT)
FEE: FREE!