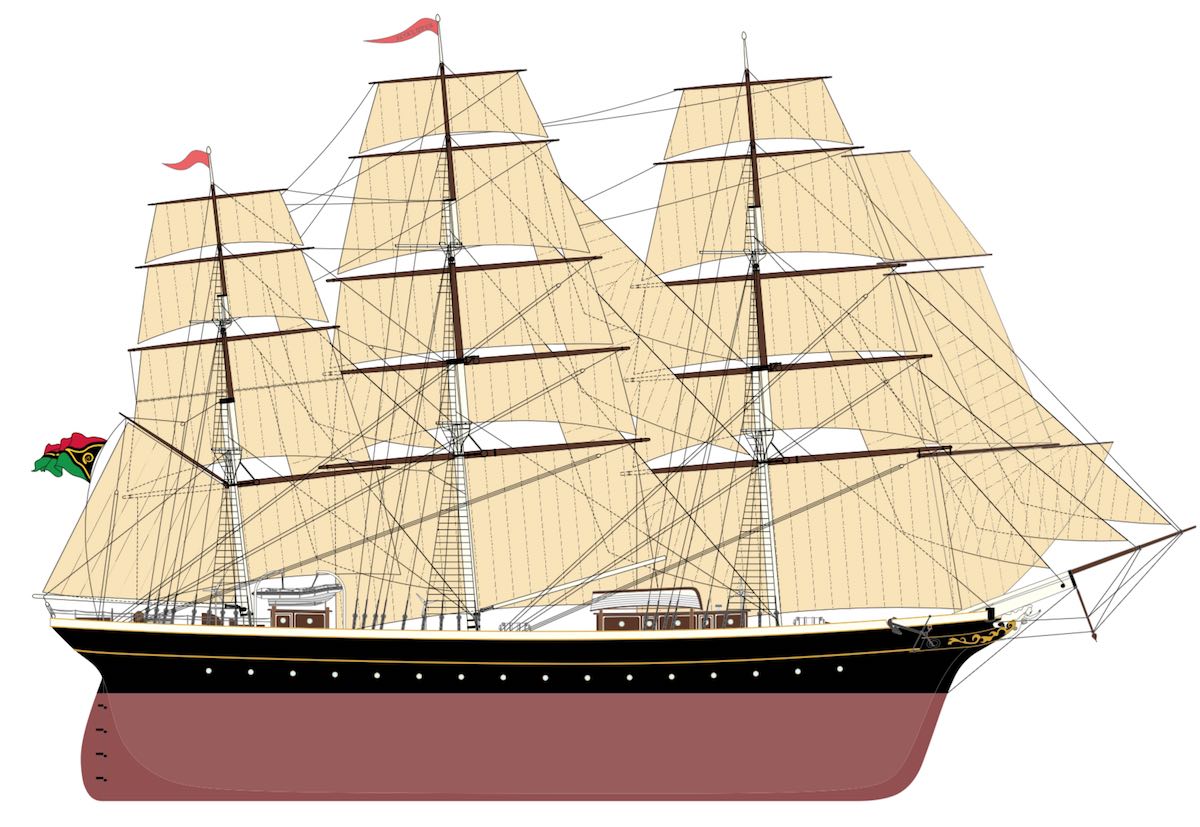 To sailors three things make a ship a clipper:
She must have sharp lines built for speed.
She must be tall sparred and be propelled by the largest possible spread of canvas.
She must use that sail, day and night, fair weather and foul.
Traditionally built, General cargo sailing ship, Not propelled by mechanical means.
Clippership
The ship will be a steel replica of the Dutch clippership Noach. Originally built in 1857 in Kinderdijk. It has been stated by historians that the Noach has been the fastest Dutch sailing vessel ever! Noah will be built to be a prototype for a line of fast traditional built, emission free cargo packet ships.
She is to be operated in the deep sea trade: Trans Atlantic, Trans Pacific and around the world.
She will be rigged with three square rigged masts, carrying a total of 976 m2 of sail area, and without mechanical propulsion whatsoever.
This state of the art sailing vessel will be an example of ultimate sustainability and seaworthiness.
The original drawings where skilfully translated to a modern model, by the architects of Sailvolution, carefully duplicating her long curving bow section and large depth of hold for carrying capacity.
This depth of hold is enough that below the main deck, this prototype, has another tween deck. The tween deck construction makes her especially suitable for carrying general cargo, project cargo and trainees and passengers. She will be built in steel with modern construction techniques. The passenger cabins and saloon aft will be furnished with the finest carpentry. The living quarters for the crew and trainees will be more basic, but also built with high standards and natural materials.
The optimal combination of draft, beam, length and capacity will make it possible for these ships to moor, load and discharge in harbours with a limited infrastructure. Thanks to the large crew, the yards, the rigging, and the capstan, the cargo can be worked independently in ports of this sort.
The three masts and square rig, combined with a well-balanced underwater body, will give this prototype the maximum possible propulsion power an emission-free ship can achieve. By not being propelled by mechanical means, the investment of an engine room is saved, while it is made possible to optimally exploit the daily meteorological circumstances and seasonal weather patterns. Above all it guarantees maximal sustainability.
Be the first to know!
Receive update's about the progress, funding and building of the EcoClipper500.