There are several large advantages of; not installing an engine in a sailing vessel, which is the reason for EcoClipper to follow this course.
1. Sustainability
With our small-scale ships, as soon as we start the engine for propulsion, even for a short distance, we lose in sustainability from the large cargo ships.
This is because these ships have a relatively huge efficiency in the emissions for each cargo/mile unit.
After all, economy of scale can hugely enlarge sustainability.
2. Moral
Finally, sailing a true sailing ship will connect her crew with the natural elements, more effectively than any other propulsion method can acquire.
There is a reason that back in the days, seamen would say, about sailors who would switch from sail to steam: "he left the sea and went into steam".
3. Economy
Installing an engine room with all the systems and regulations which come with it, is a huge investment.
The costs of operation due to fuel, lubrication, maintenance and crew, will become way more, than without it.
Installing an engine really means: to have two separate systems, sail and engine, to manage and pay for.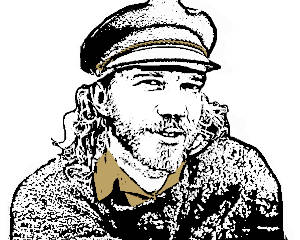 Captain Jorne Langelaan
Founder and CEO of EcoClipper