Written by Karsten Babucke, EcoClipper intern
EcoClipper is constantly growing. As interest in a sustainable way of transporting cargo increases, more people want to be part of EcoClipper.
Building a classic, engineless clipper ship faces a number of different regulations and laws, especially as EcoClipper ships will transport cargo and passengers. Luckily, EcoClipper has met Ynke Ooijkaas. Ynke is a lawyer from Rotterdam. She has a long career in the maritime sector and is passionate about sailing. Ynke has agreed to become an EcoClipper Ambassador, and it is exciting to share her story, knowledge and opinion on sustainable shipping.
A long career in the maritime sector
Ynke Ooijkaas works for the maritime law firm Boonk Van Leeuwen in Rotterdam. She specialises in inland going vessels and sailing ships. At the start of her career, she worked for the Ministry of "Verkeer & Waterstaat" (Directorate General of Shipping and Maritime Affairs). During this time, she administered sailing permits for inland going vessels and worked on the law of nationality for sea going vessels. Usually the sailing ship companies Ynke works for have passengers onboard rather than cargo.
A clipper – the best way to use the elements
Ynke is a curious and adventurous person. She remembers visiting Hoek van Holland (Port of Rotterdam) as a child where she would watch the ships in all kinds of weather, "wondering where they came from, where they are going to, how life would be onboard".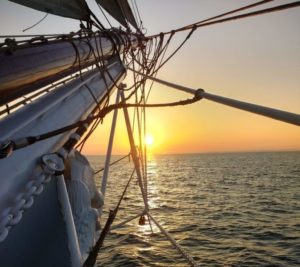 "A clipper to me is the outcome of what you get when you mix earth, water and wind, and form it into a way to carry cargo," says Ynke. A beautiful way to carry hundreds of tons only by the wind energy, a clipper is a remarkable vessel and can be the solution for environmental problems that face us today.
I am the daughter of Earth and Water,

And the nursling of the Sky;

I pass through the pores of the ocean and shores;

I change, but I cannot die.

P. Shelley, The Cloud
We need a solution for pollution
Ynke Ooijkaas emphasises that the problem of pollution in the shipping industry is a complex topic. "What caused the pollution, what can be or could have been done to prevent damage, what is the nature of the polluting substance etc" should all be considered.
There is the recent case of the "Bow Jubail", for example. The ship collided with the jetty in the harbour of Rotterdam and hundred tons of heavy fuel oil spilled into the water. The case brought up the issues with liability of vessels operating with oil as cargo. Read more here.
The cause of these pollutions can be avoided by using emission free sailing vessels, with no harmful fossil fuels on board. As an experienced lawyer, who has worked for decades in the maritime sector, Ynke believes in EcoClipper and that the company "can point the way to an alternative, more sustainable way of transport".
"EcoClipper can set an example"
For Ynke, EcoClipper is a solution to pollution problems, but it can also be an inspiration to other ships and companies as an "unconventional means of more 'green' transport". A project like EcoClipper can be a role model to others and will "show people that so much is possible if you dare to follow original and inspiring ideas".
EcoClipper plans to bring goods from around the world to Europe with a sailing ship, using the power of the wind. In times of containers and big cargo ships this idea is exciting. Ynke Ooijkaas urges others to think out of the box: "being a realist does not mean that you always have to follow the beaten path".