Or the inconvenient truth, about the consequences of not switching back to world transport, by Sail power alone?
90% of the day to day products we use in the Western world (USA, Europe etcetera) have been imported, mostly over sea. We are not only talking about exotic goods, like coffee, tea and spices, but we are talking about basic products like: grain, beans, wood, fuel and off course our consumer goods: the endless mountain of electrical apparatus, plastic, clothes and everything you can think of.
The reason it is this way, is that shipping has become so efficient, with economics of scale, containerization and online logistic systems, that shipping costs are virtually eliminated. This makes it possible for every entrepreneur, to source the countries of the earth for the cheapest and least regulated production facilities.
By doing this the costs of products drop, below any local producer, and make it more economically feasible to prefer paying a cheaper price for the same product, which has been produced abroad. The local product will soon be priced out of the market and its industry will cease to exist. This whole system, is a perfect storm of the combined forces of capitalistic and global economy. With as a result, the lowest possible price, and the highest possible consumption.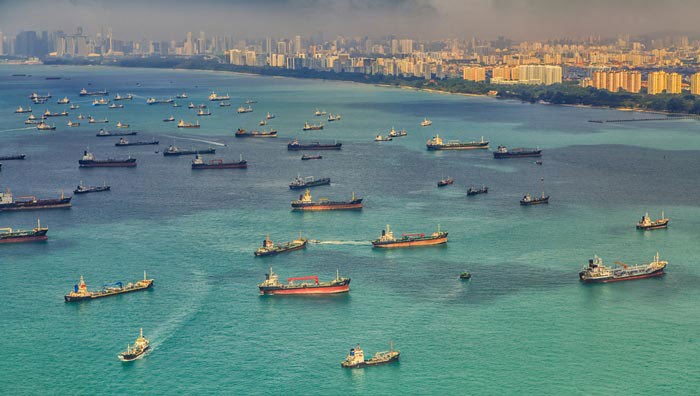 I have not talked about the emissions of these 90.000 motor ships of the world yet. And although 15 of the biggest motor ships emit as much sulfur as all cars of the world together. And the shipping emissions are deemed responsible for, annually, 60.000 deaths of cancer and other illnesses. The real problem of this system of logistics is not that, but the unbelievable rise of consumerism and the demise of sustainable self sufficient local economies, and all damage to our ecosystems, climate and social relationships it brings along.
The re-introduction of sail power, and the abolition of transport by mechanical means, would mean the costs of shipping would become fair again, not only fair for the current generation of consumers, but fair for the unborn, hopefully, many generations to come. It would mean an unbelievable revolution in transport, and actually the only morally responsible course of development in this field. It would give human (and non-human) societies a change to be not wiped out by ecological disaster, caused by our own poisonous economical system. And yes, it would mean a re-awakening, most people would not be ready for…
Yours truly,
Capt. Jorne Langelaan
P.S. Entrepreneurs are welcomed to take their responsibility, and ship their cargoes by #sailcargo. info@ecoclipper.org

source: https://www.theguardian.com/environment/2009/apr/09/shipping-pollution