Onboard EcoClipper's refitted ship De Tukker the engine from her previous life as a sail training vessel remains a part of the fixtures and fittings. Yet this might not seem in keeping with EcoClipper's goals of engine-free shipping…
The focus of our planned EcoClipper500, for example, is as an engineless vessel, crossing the world using only the power of the wind. Engineless cargo sailing ships, such as Tres Hombres, still exist today, producing no pollution on their long voyages. However, there were some important arguments to consider when it was decided to keep De Tukker's existing engine.
In Port
In some ports it is necessary for vessels to run at a minimum speed to maintain a safe course and the engine on De Tukker will allow the crew to operate within these rules.
Without an engine, a sail cargo vessel relies on a tugboat to bring it into a port and tugboats are a major source of air pollution in coastal areas. The emission savings made by sailing vessels on long journeys will offset these high emissions costs as they will have spent weeks at sea without producing pollutants. However, the shorter journeys that De Tukker will undertake will not be able to counteract this environmental cost in the same way.
In a recent conversation with the Wind, Tide and Oar project (see the full conversation below) the EcoClipper founder and CEO Jorne Langelaan spoke about the fact that ports are no longer set up to receive sail cargo vessels, and, as De Tukker will be in and out of European ports on a regular basis we will need to work with, and manoeuvre around, the existing infrastructure.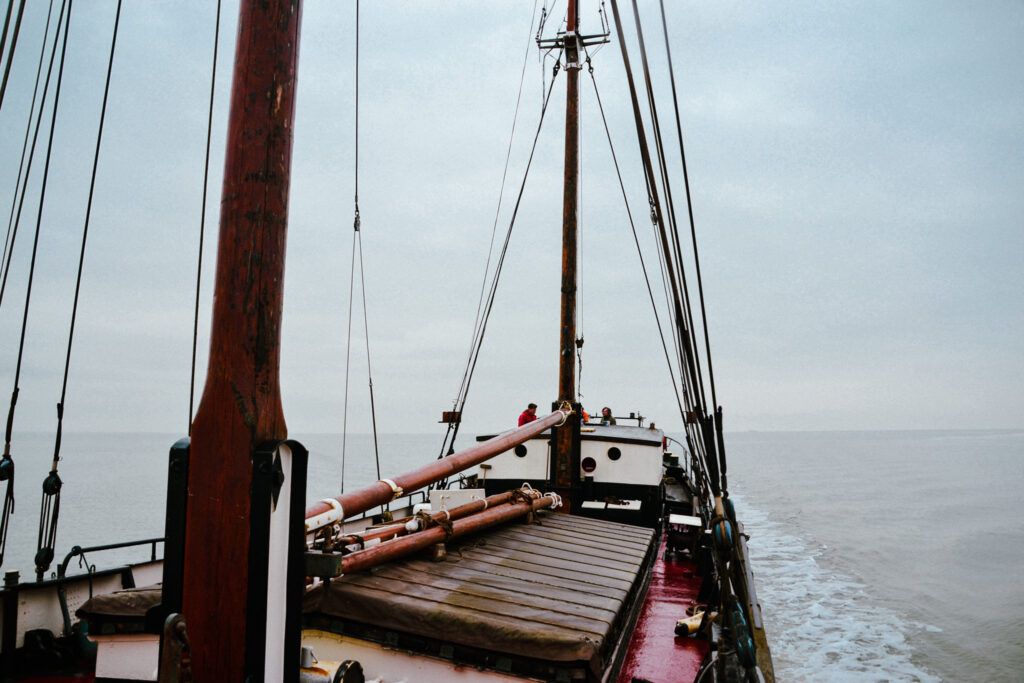 HVO (Hydrotreated Vegetable Oil)
The engine onboard De Tukker runs on a fuel blend known as HVO (Hydrotreated Vegetable Oil). This fuel is a bio-based combustible liquid that originates from various vegetable oils. Studies of heavy diesel engines have shown that HVO blended fuels have a substantial reduction of particle matter, Carbon Monoxide and Hydrocarbons when compared to standard diesel fuels. The fuel produces up to 90% less greenhouse gases than market diesel, which means that the emissions produced when running the engine are not as harmful to the environment or to the air quality for those working or living near ports.
With the majority of a journey being conducted using wind power, the overall environmental cost of shipping cargo and passengers on De Tukker will be hugely reduced compared to a standard engine vessel sailing on the same route.
Financial considerations
While our first cost considerations are environmental, the financial price of requiring a tugboat to dock a ship can be very high, often running into thousands of pounds or euros. Without such a monetary cost EcoClipper will be able to not only continue to run De Tukker – which will be the only sailing vessel dedicated to shipping on the North Sea – but we will be able to use the profit firstly to fund our own new clipper project, the EcoClipper500 and secondly, it will be further 'proof of concept' which can be presented to large financial institutions to gain additional funding for our goals.
The EcoClipper500 will be a transoceanic vessel which will travel the globe. While the company continues to work on this project, large ports around the world are announcing, and implementing plans, for a sustainable and emission-free future. When the EcoClipper500 launches it is very possible that the emission cost of tugboats will be greatly reduced, and we hope that the whole journey will come at no cost to the health of our planet.
In the meantime, the engine aboard De Tukker will be used only when necessary, and when it is used it will have a lower environmental impact than the alternatives currently available.
---
Be part of the change in shipping by investing in and becoming a part of the EcoClipper Cooperative.
Watch Jorne's conversation with Rose from the Wind, Tide and Oar project below.
"Wind, Tide & Oar explores the absorbed attention and artistry of engineless sailing, and the lives of those few exceptional seafarers prepared to go to sea whilst relying on the natural elements alone. Working with seafarers, craftspeople, sailing charities, mental health experts and sail-trainees, it concerns questions of ecology, resilience and wellbeing; looking at how the gravity and grace of sailing engineless can speak to our interaction with, and responsibility, to the natural world around us."
Visit their website: https://www.windtideandoar.com/
Check out their crowdfunding page: https://www.crowdfunder.co.uk/p/windtideandoar