Tall ship races and regattas are popular in ports around the world. Their arrival will often make the news, drawing crowds of excited onlookers eager to catch a glimpse of these beautiful vessels. Masts reaching towards the sky, sailors climbing rigging, creaking ropes and lapping waves all evoking a striking image of the past.
For thousands of years different forms of sailing ships have crossed oceans and seas, they have slipped up rivers, traversed lakes and sustained communities. Now, new shipping ventures and teams of sailors are working towards returning sails to the commercial world.
The unofficial ambassador for these operations is the brigantine Tres Hombres. The ship is named after the three friends who started a clean shipping movement in 2007, including EcoClipper CEO and founder Jorne Langelaan. By 2020 she had completed 12 Atlantic crossings. The success of this sailing ship, moving rum, olive oil, chocolate, coffee and more, has proven that there is certainly a place for profitable trade under sail in the 21st century.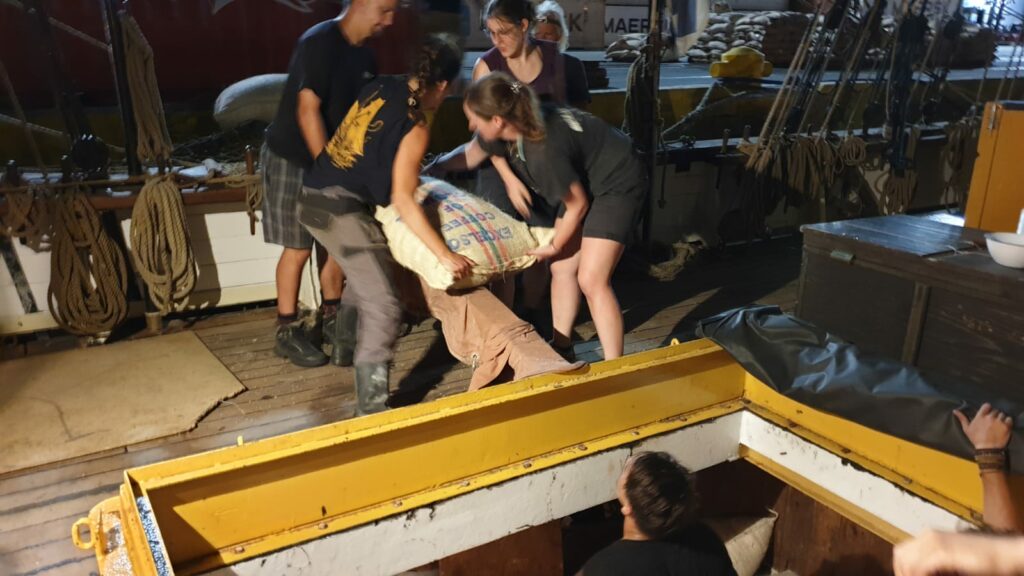 A variety of sailing companies have introduced new and retrofitted ships on a wide range of routes and shipping an array of products and passengers. Sail traders are diverse and include companies like Sail Cargo who have almost finished construction on their flagship Ceiba, or New Dawn Traders who connect small producers with sail transport. Elsewhere, sail cruises and holidays can be booked with companies like Classic Sailing and river barges are returning, such as Raybel Charters who will be shipping on the Thames. Sail is making a comeback as these companies look to reframe the narrative of cargo shipping and passenger travel.
All this has arisen not simply because of nostalgia or for the beauty of these sailing ships but as a direct result of the climate crisis. Approximately 90% of trade goods travel by sea and the shipping industry is responsible for around 2.5 – 3% of worldwide carbon emissions. This information is widely available and, following publicity from pressure groups and international events such as the COP conferences, consumers are becoming increasingly aware of the impact of their choices.
Shipping under sail is an excellent opportunity for ethical producers to tell stories about their product. Sustainability is no longer just jargon; it is becoming an integral part of business strategy. As such it makes sense for these companies to advertise the sustainable journey of their goods. This works for sailing companies, businesses and customers and will result in the continued growth of the sail industry. Indeed, as with the arrival of tall ship regattas, the arrival of a sail cargo ship is often a cause of interest and a form of advertising in itself.
Traditional sailing ships, whether specially planned – like the EcoClipper500 series, or retrofit, like EcoClipper's first ship, De Tukker – are not the only options being considered by the shipping industry. Some companies are exploring the use of kites that would assist motor power and drop emissions by up to 20%, while others are considering adding sails to existing cargo vessels.
It is an exciting time, and while sail is not yet set to take over the oceans, the use of the inexhaustible wind to help lower emissions is a practical solution towards the worldwide goals of lowering pollution.
There is little doubt about it… sails are back in vogue!