Tekening: power 2 fuel Herbert Blümel. Becker Marine 2019
Waarom zou iemand in een tijd van steeds grotere auto's, grotere vliegtuigen en grotere schepen overwegen om vracht te vervoeren met een kleiner en trager zeilschip? Deze vraag wordt de laatste tijd overal ter wereld in scheepvaartkringen gesteld omdat er steeds meer mogelijkheden ontwikkeld worden voor het gebruik van zeilen als stuwkracht. Zo vaak zelfs dat leden van de International Association of Classification Societies (IACS) zoals de ABS ha, ClasseNK, DNVGL en anderen onlangs regels hebben opgesteld voor door wind aangedreven schepen. Dit betekent dat de hele maritieme bedrijfstak de heropleving begint te onderkennen van deze traditionele vervoersmethode  en van andere fossiele brandstof besparende maatregelen.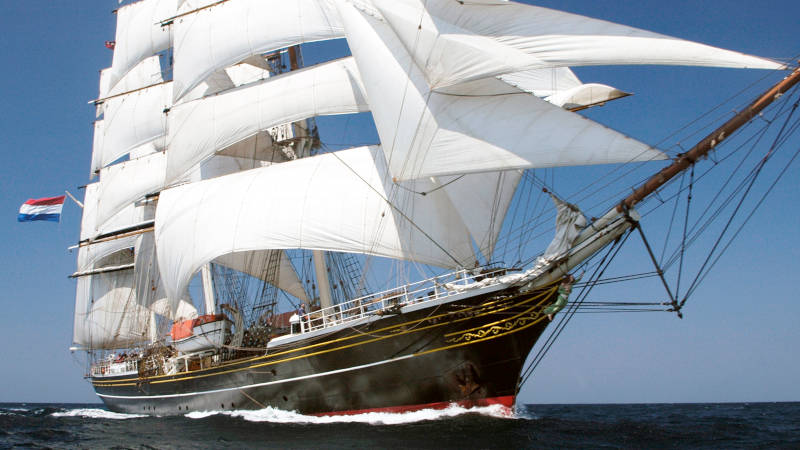 Klipper Stad Amsterdam foto Kees Stolwijk
In 2019 werd de STAD AMSTERDAM door de VN benoemd tot Groene Ambassadeur om het belang van traditioneel gebouwde zeilschepen te benadrukken. Andere beroemde zeilschepen, zoals de Cutty Sark zijn omgebouwd tot museum. In haar gloriedagen haalde de Cutty Sark een snelheid van 17.5 knopen. Ook voor moderne zeevaarders is dit een punt, want ondanks dat de huidige containerschepen hogere snelheden behalen, varen bulkschepen geen 20-22 knopen, maar liever 13-17. Een snelheid die ook haalbaar is voor moderne zeilschepen.
Het mooie van goederenvervoer onder zeil is de wetenschap dat de vervoerder het milieu spaart en tegelijk een bedrijfstak draaiend houdt met geestdrift en liefde voor het zeilen als brandstof. Tientallen jaren moesten liefhebbers van  tall ships genoegen nemen met museale baantjes, het overdragen van kennis  en andere activiteiten die er niet bepaald toe leidden dat een schip gebruikt werd waarvoor het was ontworpen, het vervoeren van vracht.  Een zeilschip als de Tres Hombres, dat passagiers, vracht en trainees vervoert  is mede een inspiratiebron voor het Ecoclipper project. We zijn in staat duurzaam verbouwde producten als bv. koffie, naar havens aan de hele Atlantische kust te vervoeren met schepen die door windkracht voortgedreven worden en elektrische stroom gebruiken die door zonnepanelen wordt opgewekt. Niet alleen voldoen we hiermee aan de IMO202 Sulpher Regulations, the Energie Efficiency Design Index en aan andere IMO voorschriften om vervuiling te voorkomen,  maar ook leiden we een nieuwe generatie zeevaarders op ten behoeve van deze groeiende en belangrijke bedrijfstak waar de wereld vandaag de dag zo'n behoefte aan heeft.