As you may have heard, earlier this year EcoClipper opened up investing opportunities to the public and bought the first ship of the EcoClipper fleet: the North Sea Klipper De Tukker. With this purchase comes the inevitable work of refitting the ship in Talsma Shipyard, sketching out a sailing schedule and finding crew. To make all this happen you need a ship agent and early in March, we welcomed Arik Visser to the team.
From a sailing world
Arik was introduced to sailing by EcoClipper founder Jorne Langelaan when they were younger. "My first time on a ship was onboard a cargo vessel owned by Jorne's uncle during the summer holidays. A few years later, Jorne was sailing as a deckhand on a sailing ship and… again I could join. I was hooked right away – it's a fantastic, adventurous world."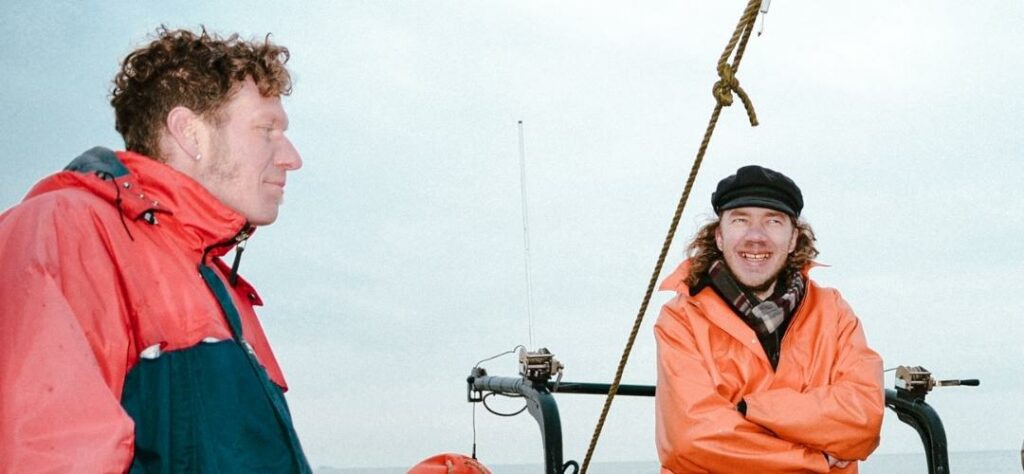 Arik went on to sail as crew on various sailing boats. More recently, he's sailed on a charter vessel that offered day trips. "During the pandemic… A lot of charter ships with accommodation for overnight stays couldn't sail, but this one could."
Arik also owned a yacht which he travelled on with his girlfriend for a year. "You're completely free on a small boat – you can take as long as you want, go wherever you want… I've done a lot of travelling and work abroad in different circumstances but being out on the ocean… it's a certain freedom you cannot experience anywhere else."
Whilst they had plans to sail the North Atlantic, unfortunately everything on the ship broke down. "The generator went, the batteries, the pumps went, there was a big leak on deck. Everything that could have broken did. Except for the mast and rigging." They ended up sailing from Holland to the south coast of England, then France, north coast of Spain, Lisbon, Madeira, Azores and back to the Netherlands. "It was a short version of the North Atlantic. In the Azores, for example, we spent four months or so exploring the islands."
Arik is also an artist. He produces his own work, curates exhibitions and does design work. For the past three years, Arik has also worked as a part-time harbourmaster near Amsterdam.
EcoClipper's first Ship Agent for De Tukker
The role of the ship agent is vital to the seamless operation of a shipping company. "A ship agent finds cargo, passengers, crew, that the paperwork is all correct – insurance, customs, regulations are being met etc…" explains Arik. "You kind of guide the ship during the season… so you have to think a few extra steps ahead of what the ship needs or could need."
Last year, EcoClipper announced a partnership with a local agent in the Asia-Pacific region. What's the difference, then, between a local/port agent and a ship agent? "I'm thinking on behalf of EcoClipper's ships. A part of my role is to have contact with port agents. So, De Tukker will sail to around 17 different ports this season and it would be ideal to have a port agent contact in every different port or area."
EcoClipper, Tukker and sail cargo
Arik believes strongly in the message of sail cargo and EcoClipper. "I was keeping track of what EcoClipper was doing because it's a wonderful concept, a great idea and sustainability-wise a necessity… I was already a fan of the idea of sailing cargo and the different companies doing it."
Arik was first introduced to De Tukker on the trip from Den Helder to Harlingen. "It's a beautiful ship. It's well built and has nice lines. I've sailed a lot on flat-bottomed ships, but most were built for inland water – not for coastal trade. You can see it [De Tukker] was built as a coaster. It's built a lot stronger and… the capacity is larger because the ship has a big beam and relatively big draught…"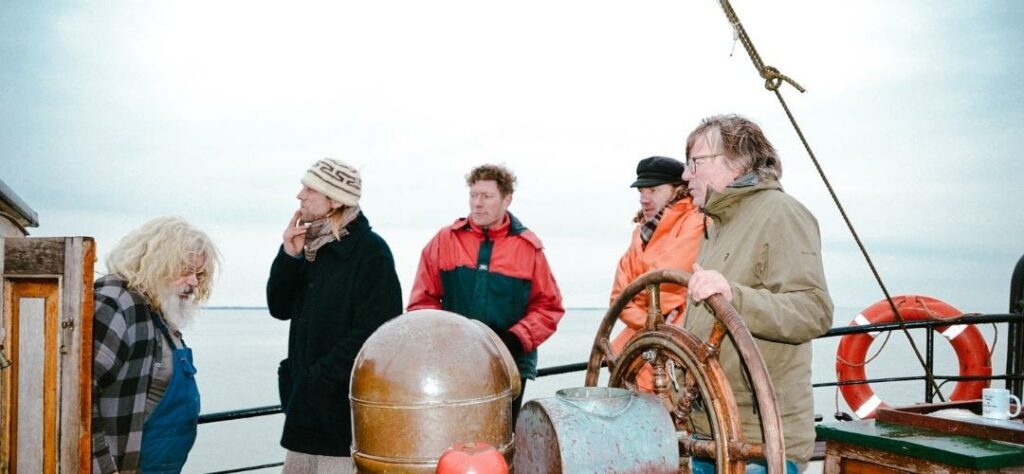 What does he see for the future of sail cargo? "I hope that… a fleet develops worldwide, that the number of companies will grow and the amount of cargo will expand crazily around the globe! In a perfect world we're sailing a lot of cargo with… companies growing a hundred-fold or a thousand-fold in the upcoming 20 to 30 years. It's going to be a lot of effort because the global infrastructure is not built for it." In the end, Arik hopes that as the number of sailing ships transporting cargo increases, so will the number of warehouses and facilities to support them.
Arik sees parallels in the work in sail cargo and art. "You have a concept, an idea, and slowly you have to complete it. The concept can grow and change and get bigger and better."
If you are interested in becoming crew or shipping your cargo with De Tukker, email Arik at operations@ecoclipper.org.